Programme
Final scientific programme of ICMF 2016 at a glance.
Click on the time table to display a larger image.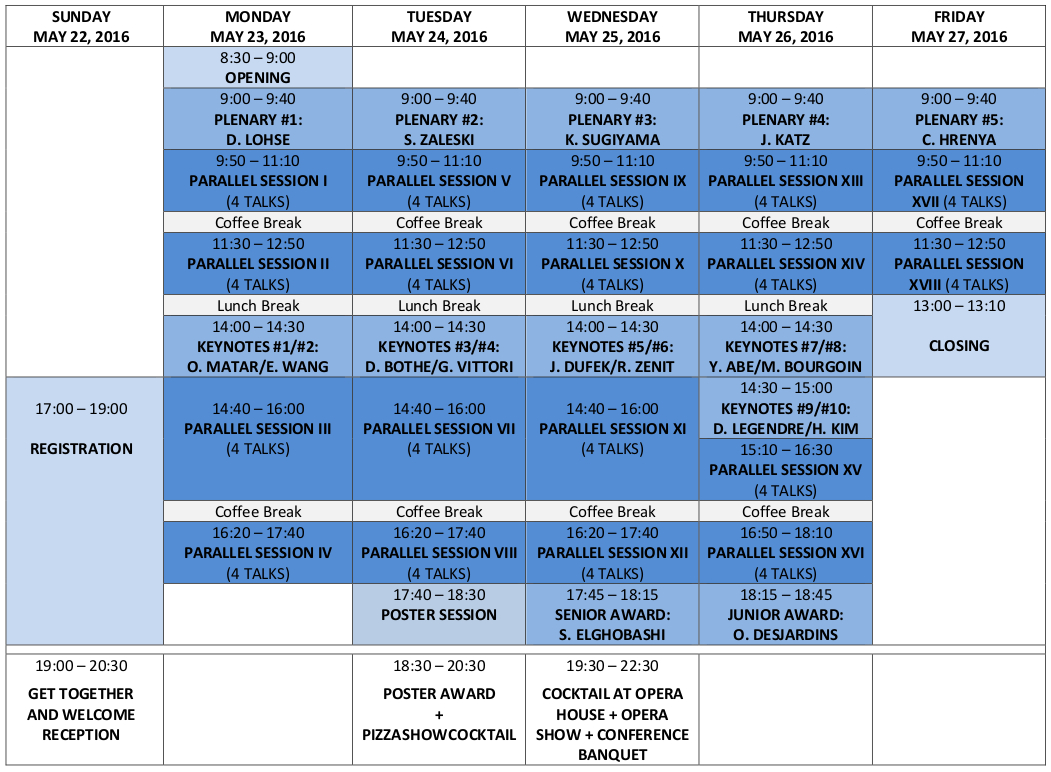 The detailed technical programme is available HERE.

The scientific programme will include 5 plenary lectures and 10 keynote lectures, given by outstanding researchers on topics of broad interest to the multiphase community, along with contributed papers, poster sessions, focus sessions, and exhibits.
Over 1100 contributed abstracts are anticipated.

On Sunday, May 22, 2016 the registration desk will be open from 5pm to 7pm to give participants the opportunity to register early for the conference. This will allow you to avoid long lines at the registration desks in the morning of the first conference day, and make registration easier for those who arrive later.
All participants of ICMF 2016 are invited to the Welcome Reception, which will take place on Sunday, May 22 from 7pm until 8:30pm at the conference venue. The Welcome Reception will serve as an initial get-together for social networking in a relaxed atmosphere.
The official programme will start Monday, May 23, 2016 at 8:30am. The conference will end Friday, May 27, 2016 at 1pm.
The official programme also includes a Pizza Show Cocktail, which will be held on Tuesday, May 24, 2016 during the Poster Award session, and the Conference Banquet, which will be held on Wednesday, May 25, 2016 at the Nuovo Teatro dell'Opera. On this occasion, participants will have the exclusive chance to attend the Dress Rehearsal of the Orchestra and the Chorus of the Maggio Musicale Fiorentino festival.
Instructions for the speakers:
• Regular contributed talks will be assigned 17 minutes for presentation, plus additional 3 minutes for questions and change of speaker.
• Chair persons are kindly asked to strictly maintain the schedule, even in the case of no-show.
• Each presentation room will be equipped with a PC (capable of displaying PDF and Powerpoint presentations) and an LCD projector. Laser presentation pointers can be provided upon request of the Chair person and depending on availability.
• Speakers are kindly asked to upload their presentations in the PC assigned to the room and test their presentation well beforehand.
• In case of technical difficulties, it is the speaker's responsibility to contact the staff person assigned to the room ahead of the scheduled time of the presentation.
• Please prepare a good quality portable PDF version of the presentation in the case other formats are not supported by the PC.
---

---