General Information
(Please avoid that the e-mail ecce12_ecab5@aidic.it is junked by your system)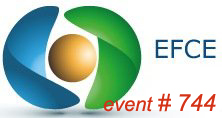 Energy and Chemical Engineering
Summary
The energy transition and the mitigation of the CO2 emissions are key challenges for the chemical engineering community. On the one hand, energy is the main driver of the chemical industry and on the other hand, chemical engineering is a key discipline for the supply of energy services. These include the energy conversion, the CO2 capture and reuse and the integration of renewable energy sources. The EFCE Energy Section concerns the key contributors of chemical engineering in the energy sector and the key aspects of energy for chemical engineering.


Topics
►Topic 42: ENERGY AND RESOURCE EFFICIENCY IN THE CHEMICAL AND PROCESS INDUSTRY
►Topic 43: ENERGY CONVERSION, RENEWABLE ENERGY AND CO2 MITIGATION
►Topic 44: WASTE-WATER-ENERGY NEXUS
►Topic 45: CHEMICAL ENGINEERING FOR FUELS AND TRANSPORTATION
►Topic 46: BIOFUELS AND BIOREFINERIES
►Topic 47:CO2 CAPTURE & REUSE
►Topic 48: ENERGY STORAGE & ELECTROCHEMICAL PROCESSES

Organizing committee of the symposium
Fabrizio Bezzo, University of Padova, Italy Chair
fabrizio.bezzo@unipd.it

Francois Marechal, University of Lausanne, Switzerland, co-Chair
francois.marechal@epfl.ch

Fernando Martins, University of Porto, Portugal
fgm@fe.up.pt

Valerio Cozzani, University of Bologna, Italy
valerio.cozzani@unibo.it

Richard Darton, Keble Colleg, Uk
richard.darton@eng.ox.ac.uk

Kevin van Geem, University of Ghent, Belgium
kevin.vangeem@ugent.be

Kai Sundmacher, Max-Planck-Institut, Germany
sundmacher@mpi-magdeburg.mpg.de

Panos Seferlis, Aristotele University of Thessaloniki, Greece
seferlis@auth.gr

Manuel Rodrigo, UCLM, Spain
manuel.rodrigo@uclm.es

Instructions for abstract submission
► Abstracts is max two pages long and is written in English according with the template (ECCE12_Symposium2)
► Please submit the abstract file as .docx .

► Name the abstract file as First-Author-lastname.docx (ex.: Smith.docx).
► During the submission procedure you will provide the abstract title, the list of authors with affiliations and addresses and the preferred topic.To start the abstract submission you have first to select the number of authors of the abstract. If the number is greater than six, fill in data for the first six authors and then submit via e-mail the data of the remaining authors (from the 7th co-author on; max 8 co-authors.).
► You are kindly asked to check carefully the information you submit here, since they will be included in the conference database and used for all congress related activities. Please write only the first name (neither middle-name nor middle initial) and the lastname. Italians are suggested to fill in the affiliation in Italian and not in English.
SYMPOSIUM 2 ABSTRACT

Please select the authors number of the paper

Confirmation of abstract submission will be displayed immediately after submission.
You will NOT receive any confirmation by e-mail.
Information to Authors on abstract acceptance will follow the assigned deadline
Organized by AIDIC The Italian Association of Chemical Engineering