General Information
(Please avoid that the e-mail ecce12_ecab5@aidic.it is junked by your system)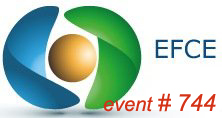 ECCE12 & ECAB5 TOPICS
The joint Congresses ECCE12 and ECAB 5 and the associated events stand under the common theme of
Bridging Science with Technology : a Renaissance in Science
The emphasis of these joint congresses will be on stimulating discussions on bridging the gap between Science and Technology in relevant areas of application: current status, emerging problems and future vistas.
The scientific content of both the congresses ECCE12 and ECAB 5 is set under the governance of EFCE and ESBES Working Parties and Sections.
The Chairmen and many of the Delegates of the abovementioned Working Parties and Sections are Members of the Scientific Committee of both the Congresses and they will play a key role in the position of Theme Coordinators.
The conferences will cover a wide range of research themes under the umbrella of Chemical Engineering and Applied Biotechnology.
The list of topics presented here below, therefore, is a condensed list of titles intended to stimulate scientific discussion. It is, however, not exclusive and all abstracts are welcome which belong into Chemical Engineering and Applied Biotechnology.
You are encouraged to visit both the EFCE pages relevant to the Working Parties (http://efce.info/wp.html), Sections (http://efce.info/Sections.html) and the ESBES pages relevant to its Sections (http://esbes.org/ESBES+Sections.html) to see the full scope of the scientific interests of EFCE and ESBES, and therefore of ECCE12 and ECAB5.
MAIN TOPICS
ECCE12

1
SUSTAINABLE PROCESSES
2
PARTICLE TECHNOLOGY
3
PRODUCTION , PROPERTIES AND TECHNOLOGY OF NEW MATERIALS
4
NANOTECHNOLOGY
5
SEPARATION TECHNOLOGY AND HEAT & MASS TRANSFER
6
THERMODYNAMICS AND INTERFACIAL PHENOMENA
7
FLUID MECHANICS AND TRANSPORT PHENOMENA
8
MULTIPHASE SYSTEMS
9
MEMBRANE ENGINEERING : Energy from salinity gradients, Hybrid artificial organs
10
INDUSTRIAL ELECTROCHEMISTRY
11
PROCESS SYSTEM ENGINEERING
12
CHEMICAL REACTION ENGINEERING
13
BIOMASS
14
FOOD ENGINEERING
15
ENERGY AND CHEMICAL ENGINEERING
16
ENVIRONMENT, SAFETY & QUALITY
17
QUALITY ASSURANCE, CONTROL & MANAGEMENT SYSTEMS
18
KNOWLEDGE, EDUCATION & TRAINING

ECAB5

19
ADVANCED AND INNOVATIVE TECHNOLOGY IN INDUSTRIAL BIO-PRODUCTION, BIO-SEPARATION, AND BIO-DETECTION (BIOSENSORS)
20
BIOENERGY, BIOFUELS&RENEWABLES, BIORESOURCES, BIOREFINERY AND BIOMATERIALS (BIO-ACTIVE COMPOUNDS, BIOFUELS, FINE CHEMICALS)
21
BIOCATALYSIS (FUTURE MICROBES AND ENZYMES)
22
NOVEL PROCESSING (E.G. MICROBIAL FUEL CELLS), DOWNSTREAM PROCESSING
23
FROM SMALL TO LARGE (NANO-BIOTECHNOLOGY, SCALE-UP/SCALE DOWN, LARGE-SCALE PRODUCTION)
24
SYSTEMS BIOTECHNOLOGY AND METABOLIC ENGINEERING
25
PROTEIN AND ENZYME STABILITY
26
ENVIRONMENTAL BIOTECHNOLOGY
27
BIOFILMS IN INDUSTRY AND BIOMEDICINE
28
CHEMICAL PRODUCT DESIGN AND BIOPRODUCTS
29
BIOECONOMY
30
BIOREACTOR PERFORMANCE
31
DOWNSTREAM PROCESSING
32
FOOD BIOPROCESSES
33
MICROALGAE BIOENGENEERING
34
MODELLING, MONITORING, MEASUREMENT & CONTROL
35
REGENERATIVE MEDICINE MANUFACTURING
Organized by AIDIC The Italian Association of Chemical Engineering