General Information
(Please avoid that the e-mail ecce12_ecab5@aidic.it is junked by your system)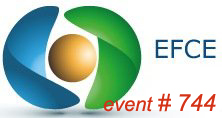 ABOUT ECAB
The European Society of Biochemical Engineering Sciences
(ESBES)
promotes a series of biannual events, known as ECAB Congresses:
"EUROPEAN CONGRESS OF APPLIED BIOTECHNOLOGY".
The Organization of each event is awarded only to Member Societies of ESBES, following a proper acceptance of a proposed bid. ECAB5 is the 5th edition of the series started in Berlin in 2011. ECAB congresses are organized in conjunction with ECCE Conferences.
Previous ECAB Congresses
| | | | |
| --- | --- | --- | --- |
| No. | Year | Dates | Venue |
| 1st | 2011 | Sep. 25 - 29 | Berlin, Germany |
| 2nd | 2013 | Apr. 21 - 25 | The Hague, The Netherlands |
| 3rd | 2015 | Sep. 27- Oct. 01 | Nice, France |
| 4th | 2017 | Oct. 01 - 05 | Barcelona, Catalunya, Spain |
Organized by AIDIC The Italian Association of Chemical Engineering