General Information
(Please avoid that the e-mail ecce12_ecab5@aidic.it is junked by your system)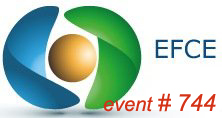 Crystallization fundamentals and industrial processes
Summary
The mini-symposium offers a platform to the crystallization community for international exchange between scientists and engineers of all disciplines, academia and industry, and between novice and expert. Crystallization takes place in most natural physical, biological, and chemical systems, and is exploited today in thousands of applications, from the production of commodities to that of pharmaceuticals, food ingredients and fine chemicals. Research is active on a broad range of topics from fundamentals to industrial applications, and has led to new breakthrough results and innovative products in recent years. Crystallization's stimulating challenges and exciting opportunities make it a very inspiring and rewarding scientific and technical field. The mini-symposium will present over one full day a broad overview of the science and technology of crystallization..


Topics
►Topic 54: FUNDAMENTALS OF CRYSTALLIZATION
►Topic 55: PROCESS ANALYTICAL TOOLS IN CRYSTALLIZATION
►Topic 56: MODELING OF CRYSTALLIZATION PROCESSES, INCLUDING MIXING
►Topic 57: CRYSTALLIZATION PROCESSES
►Topic 58: INDUSTRIAL APPLICATIONS

Scientific committee of the symposium
Marco Mazzotti, ETH Zurich, Switzerland (Chair)
marco.mazzotti@ipe.mavt.ethz.ch

Béatrice Biscans, University of Toulouse, France
beatrice.biscans@ensiacet.fr

Matthias Rauls, Basf SE, Germany
matthias.rauls@basf.com

Daniele Marchisio, University of Torino, Italy
daniele.marchisio@polito.it

Mei Lee
mei.2.lee@gsk.com, GSK, UK

Robert Geertman
rgeertma@ITS.JNJ.com, Johnson & Johnson, Belgium


Instructions for abstract submission
► Abstracts is max two pages long and is written in English according with the template (ECCE12_Symposium4)
► Please submit the abstract file as .docx .

► Name the abstract file as First-Author-lastname.docx (ex.: Smith.docx).
► During the submission procedure you will provide the abstract title, the list of authors with affiliations and addresses and the preferred topic.To start the abstract submission you have first to select the number of authors of the abstract. If the number is greater than six, fill in data for the first six authors and then submit via e-mail the data of the remaining authors (from the 7th co-author on; max 8 co-authors.).
► You are kindly asked to check carefully the information you submit here, since they will be included in the conference database and used for all congress related activities. Please write only the first name (neither middle-name nor middle initial) and the lastname. Italians are suggested to fill in the affiliation in Italian and not in English.
SYMPOSIUM 4 ABSTRACT

Please select the authors number of the paper

Confirmation of abstract submission will be displayed immediately after submission.
You will NOT receive any confirmation by e-mail.
Information to Authors on abstract acceptance will follow the assigned deadline
Organized by AIDIC The Italian Association of Chemical Engineering