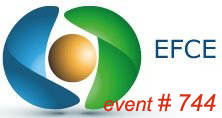 EFCE FORUM
ALL THE PARTICIPANTS TO THE CONFERENCE ARE INVITED TO EFCE FORUM
TUESDAY 25 FROM 9:40 TO 12:40 AM - room AIDA-B
Efce Forum, the parallel event organized by the European Federation of Chemical Engineering (EFCE), of which AIDIC is an active member, will be held in the room AIDA-B.
At the Forum will participate three Officers of the EFCE, as well as the Scientific Vice President, Petr Kluson, the Executive Vice President, Jarka Glassey, together with the President of the English association IchemE, David Bogle, former Scientific Vice President of EFCE in the last two terms, and some Chairpersons of the EFCE Working Parties more involved in E2DT issues.
The event will be open to congress participants, who will be able to hear and debate with the speakers on the issues of transition, and also on important aspects related to it, such as ethics and education.
The latter aspect will be very interesting, in particular in relation to the changes necessary in this context in the curriculum of the studies of chemical engineers must change.