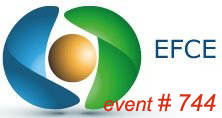 EFCE FORUM
ALL THE PARTICIPANTS TO THE CONFERENCE ARE INVITED TO EFCE FORUM
TUESDAY 25 FROM 9:40 TO 12:40 AM - room AIDA-B

FIRST PART – Principal Lecture
9.40 to 10:40
The Principal Lecture will be delivered by Dr. Hermann J. Feise, the former President of EFCE,
and the current Chair of the EFCE Working Party on Education.
This session is introduced and chaired by Giorgio Veronesi, President of EFCE, and Petr Kluson,
Scientific Vice-President of EFCE.
H. J. Feise, J. Unger (BASF, Ludwigshafen, DE) Is a climate friendly chemical industry
possible?

SECOND PART – Round Table Discussion
11.20 to 12.40
Giorgio Veronesi, President of EFCE, will moderate this part.
In particular, the subjects treated will be Ethics, Education, Digital tools, Energy vectors, Critical
materials for renewable energies, etc. Among others, Jarka Glassey, Executive VP of EFCE, Petr
Kluson, Scientific VP of EFCE, David Bogle, President of IChemE, Hermann J. Feise, Chair of
the EFCE Education Working Party, and Elisabetta Brunazzi and Maurizio Rovaglio, members of
the EFCE Board of Trustees, will take part.