General Information
(Please avoid that the e-mail ibic2020@aidic.it is junked by your system)




ANNOUNCEMENT
Regarding CoronaVirus outbreak (COVID-19) in Italy, the emergency related to the virus has seriously compromised the schedule of the Congress.
Therefore we regret to inform that since the Congress cannot be postponed, IBIC2020 CONGRESS IS CANCELLED.

The publication of all the papers in CET Journal is maintained upon request of each registered Author.
The credit amount to Authors will be refunded.
Milano, March 10th, 2020
WELCOME TO IBIC 2020
7th INTERNATIONAL CONFERENCE ON INDUSTRIAL BIOTECHNOLOGY
March 29 - April 1, 2020 - Firenze, Italy

IBIC 2020 welcomes you to its sixth biannual event which will be held from March 29 to April 1 2020 in Firenze.
We look forward to meeting you in this conference that provides an exciting programme with the opportunity to exchange ideas with colleagues from all sectors of biotechnology including academia and industry.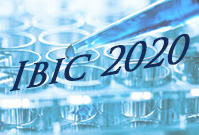 Save the Date!
September 30, 2019-Abstract Submission Deadline
October 15, 2019-Abstract Acceptance
November 20, 2019-Manuscript Submission Deadline
January 15, 2020-Manuscript Acceptance
February 1, 2020-Authors Registration Deadline
February 29, 2020-Preliminary Programme
March 29, 2020-Conference

Promoted & Organized by AIDIC The Italian Association of Chemical Engineering