General Information
(Please avoid that the e-mail ecce12_ecab5@aidic.it is junked by your system)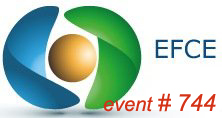 7th Symposium on Product Design and Engineering
Summary
Product design and engineering is considered a branch of the general chemical engineering discipline at the interface between the fields of chemical engineering, formulation science & technology and materials science & engineering. It is applied in many industrial areas such as pharmaceutical, biomedical, food and feed products, cosmetics, adhesives, coatings, composites, etc. as all require research into the physical, chemical and biological processes that create specific formulated product structures.


Topics
►Topic 59: STRUCTURED PRODUCT DESIGN AND ENGINEERING METHODOLOGY COVERING ALL ELEMENTS IN THE PRODUCT VALUE CHAIN
►Topic 60: MOLECULAR DESIGN AND ENGINEERING OF PROPERTIES
►Topic 61: UNDERSTANDING OF MOLECULAR/MICRO-STRUCTURE AND PRODUCT PERFORMANCE RELATIONSHIPS
►Topic 62: UNDERSTANDING OF MOLECULAR/MICRO-STRUCTURE AND PRODUCT PERFORMANCE RELATIONSHIPS

Organizing & Scientific committee of the symposium
Prof. Dr.-Ing. Ulrich Bröckel, Chair
u.broeckel@umwelt-campus.de

Dr. Stefan Kaufmann, co-Chair
stefan.kaufmann@beiersdorf.com

Prof. Dr. Pedro Saraiva

Raquel Costa, PhD

Dr. Marco Ramaioli, Senior Lecturer


Instructions for abstract submission
► Abstracts is max two pages long and is written in English according with the template (ECCE12_Symposium5)
► Please submit the abstract file as .docx .

► Name the abstract file as First-Author-lastname.docx (ex.: Smith.docx).
► During the submission procedure you will provide the abstract title, the list of authors with affiliations and addresses and the preferred topic.To start the abstract submission you have first to select the number of authors of the abstract. If the number is greater than six, fill in data for the first six authors and then submit via e-mail the data of the remaining authors (from the 7th co-author on; max 8 co-authors.).
► You are kindly asked to check carefully the information you submit here, since they will be included in the conference database and used for all congress related activities. Please write only the first name (neither middle-name nor middle initial) and the lastname. Italians are suggested to fill in the affiliation in Italian and not in English.
SYMPOSIUM 5 ABSTRACT

Please select the authors number of the paper

Confirmation of abstract submission will be displayed immediately after submission.
You will NOT receive any confirmation by e-mail.
Information to Authors on abstract acceptance will follow the assigned deadline
Organized by AIDIC The Italian Association of Chemical Engineering