General Information
(Please avoid that the e-mail ecce12_ecab5@aidic.it is junked by your system)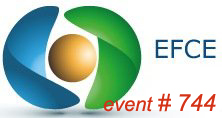 Continuous Manufacturing
Summary
Continuous manufacturing has been recognized as the biggest opportunity for further optimization of the production of biopharmaceuticals and industrial enzymes in a more efficient way. This has the potential to significantly lower the production costs and enable accessibility of biologics to a much wider population, including developing countries, and to reduce the environmental footprint, and improve product quality. Despite the advantages of continuous manufacturing, the vast majority of biologics is still produced entirely in batch mode, and the product recovery is completely performed in a batch-wise manner. With this mini symposium we expect to address several topics including , economic and environmental modelling, miniaturization, scale-up and scale-down of unit operations and process design and development of integrated continuous downstream processes, which will t contribute to the intensification of the downstream processing of biological products and to train scientists in the field of continuous downstream processing.


Topics
►Topic 49: MINIATURIZATION, SCALE-UP AND SCALE-DOWN
►Topic 50: MODELING OF DOWNSTREAM PROCESSING
►Topic 51: PROCESS DESIGN & DEVELOPMENT OF INTEGRATED CONTINUOUS DOWNSTREAM PROCESSES
►Topic 52: ECONOMIC AND ENVIRONMENTAL MODELLING
►Topic 53: INDUSTRIAL CASES /EXAMPLES

Organizing committee of the symposium
Raquel Barros, University of Lisbon, Portugal
rabarros@ist.utl.pt


Instructions for abstract submission
► Abstracts is max two pages long and is written in English according with the template (ECCE12_Symposium3)
► Please submit the abstract file as .docx .

► Name the abstract file as First-Author-lastname.docx (ex.: Smith.docx).
► During the submission procedure you will provide the abstract title, the list of authors with affiliations and addresses and the preferred topic.To start the abstract submission you have first to select the number of authors of the abstract. If the number is greater than six, fill in data for the first six authors and then submit via e-mail the data of the remaining authors (from the 7th co-author on; max 8 co-authors.).
► You are kindly asked to check carefully the information you submit here, since they will be included in the conference database and used for all congress related activities. Please write only the first name (neither middle-name nor middle initial) and the lastname. Italians are suggested to fill in the affiliation in Italian and not in English.
SYMPOSIUM 3 ABSTRACT

Please select the authors number of the paper

Confirmation of abstract submission will be displayed immediately after submission.
You will NOT receive any confirmation by e-mail.
Information to Authors on abstract acceptance will follow the assigned deadline
Organized by AIDIC The Italian Association of Chemical Engineering